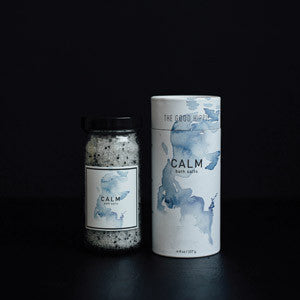 The Good Hippie
Calm Bath Salts
O V E R V I E W : 
A detoxifying, luxurious blend of therapeutic salts and essential oils combine to create a deeply relaxing hydrotherapy treatment. 
Indulge in the restorative ritual of the bath - a time to breathe deeply, reflect, soften, and cleanse the body + mind.
K E Y   I N G R E D I E N T S :
DEAD SEA SALT: Extremely rich in vitamins and minerals, most notably Magnesium, Calcium, Bromide, Sulfur, Sodium, and Zinc. Sea salts increase circulation, balance skin moisture, combat fluid retention, and ward off stress.
EPSOM SALT: Valued for it's therapeutic benefits, Epsom salts relax the body and ease stress thanks to it's high concentration of Magnesium. Additionally, eases sore muscles, soothes skin, and is mildly detoxing.
BLACK LAVA SALT: Infused with activated charcoal, black lava salt relieves aches and pains. It also improves circulation, and hydrates the skin.
LAVENDER + BERGAMOT + SANDALWOOD: All included for aromatherapeutic abilities to induce calm, relaxation, and feelings of tranquility.
O U R   P R O M I S E :
PURE + NATURAL. Absolutely no useless fillers, artificial ingredients, animal products, parabens, sulfates, artificial fragrances, coloring, dyes, or harmful preservatives.
KIND + PEACEFUL. Our products are vegan and no animal testing is conducted on our products or ingredients.
SUSTAINABLE + ETHICAL. We carefully source our raw materials and packaging with a sense of responsibly to and utmost respect of Mother Earth.
D E T A I L S:
Packaged in an 8 oz reusable glass jar. 
TO USE:  Add a generous amount to bath water. Soak. Breathe deeply. Feel tranquility and calm.
C O M P L E T E   I N G R E D I E N T   L I S T:  dead sea salt, epsom salt, black lava salt, essential oils of citrus bergamia (bergamot, bergapten-free)*, lavandula angustifolia (lavender)*, santalum spicatum (sandalwood)✝
* certified organic  ✝ sustainably and ethically harvested
EWG Ingredient List
dead sea salt-0
http://bit.ly/1EuL4vY

epsom salt-1
http://bit.ly/2lWwjz6

essential oils of citrus bergamia (bergamot, bergapten-free)-1
http://bit.ly/1MNiFG6

lavandula angustifolia (lavender)-1
http://bit.ly/1EuHKRq

santalum spicatum (sandalwood)-1
http://bit.ly/2lWB4bZ