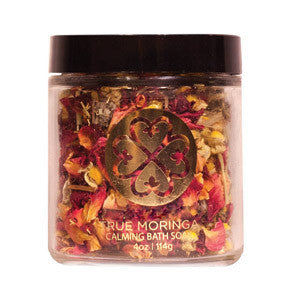 True Moringa
Calming Bath Soak
O V E R V I E W : 
Transform your bathing routine with luxurious sweet and citrusy herbs and petals drenched in soothing moringa and scintillating essential oils.     
D I R E C T I O N S: 
Sprinkle a small handful of oil-infused herbs and petals under warm running water and soak in bath.  
T H E  S C I E N C E: 
ANTI AGING 
Moringa is rich in zeatin, known for stimulating cell division, growth, and delaying aging of cells. Moringa is packed with crucial fatty acids and antioxidants that the fight free radicals that cause premature aging.
Anti-inflammatory rose petals, balancing lemongrass, and soothing chamomile and sage firm and tone skin, nourishing, relaxing, and reducing the appearance of wrinkles.  
IDEAL FOR ALL SKIN TYPES
Treat yourself to a spa-like experience - gently replenishes and calms all skin types. 
T H E  I M P A C T: 
Paraben free, sulfate free, vegan. True Moringa works directly with a network of 1600 smallholder farmers throughout Ghana, providing sustainable livelihoods through access to credit, agricultural training, nutrition programs, and fair wages. 
EWG INGREDIENTS SCORES:
CHAMOMILLA RECUTITA (MATRICARIA) (CHAMOMILLE)- 1
http://bit.ly/1nj7ApC
 
ROSA CENTIFOLIA (ROSE) PETALS-1
http://bit.ly/2fi0ldl
 
CYMBOPOGON FLEXUOSUS (LEMONGRASS)- 0
http://bit.ly/1NIrYKa

SALVIA OFFICINALIS (SAGE)- 1
http://bit.ly/1WCrSGV

MORINGA OLEIFERA SEED OIL- 1
http://bit.ly/2fekSkH