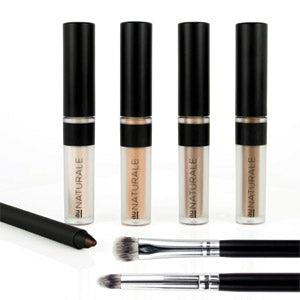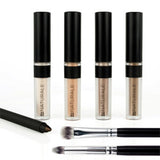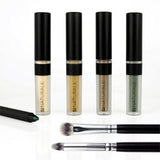 Au Naturale
Eye Enhancing Palettes
Our Eye Enhancing Palettes are curated to make your eyes pop, because your naturally beautiful eyes should be flaunted...and how better to do so than with naturally clean shadows and liners?  Each kit includes: 4 Super Fine Powder Shadows + a Swipe-On Essential Eye Pencil + an All Over Shadow Brush + a Crease Shadow Brush + expert advice from our fave celebrity makeup artists on how to achieve a look that is perfect for you!
Blue Eyes: 
Gardenia - a champagne tint with rose undertones. 
Dahlia - a semi-luster brown with golden undertones. 
Copper - a bold bronzer with a dash of silver luster.
Cedar - a medium deep brown with  neutral undertones and subtle luminosity. 
Coco Pencil - a classic warm brown. 
Green Eyes:
Lace - a luminous ivory with subtle pink undertones.
African Violet - a deep pearlescent purple with smokey undertones.
Dark Opal - a dusty pearlescent cranberry rose. 
Mahogany - a dazzling pearlescent blue-grey tine with brown undertones.
Amethyst - a deep purple hue. 
Brown Eyes: 
Trillium - a luminescent light tan with yellow undertones. 
Mojo - a light mustard gold with subtle luminosity. 
Pyrite - an antique gold with strong green undertones.
Envy - a matte army green. 
Meadow Pencil - a forest green with subtle luster. 
Formulated without animal bi-products, synthetic preservatives, nano particles, gluten, parabens, fillers, dyes or toxins, our Super Fine Powder Shadow and Swipe-On Essential Eye Pencils are 100% natural, cruelty-free, vegan and made in the USA.
Super Fine Powder Shadows: 
Iron Oxides, Silica, Zinc Oxide, Micas.
Swipe on Essential Eye Pencils:
Ricinus Communis (Castor Seed Oil), Euphorbia Cerifera (Candelilla Wax), Organic Simmondsia Chinsis (Jojoba Seed Oil), Hydrogenated Ricinus Communis (Castor Seed Wax), Iron Oxides, Micas.