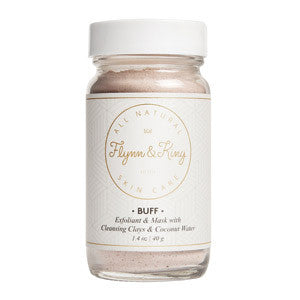 Flynn & King
BUFF - Facial Exfoliant & Mask with Cleansing Clays & Coconut Water
Don't have the pink look fool you. BUFF is a gentle exfoliant and mask that is power packed with the ability to scrub away dead skin while made with a triad of cleansing clays, nourishing coconut flour, and softening coconut water to keep your skin smooth, supple, and hydrated. Kaolin and Rhassoul clays are known to help unclog pores and tighten them and make them appear less visible. People with sensitive skin will also benefit from using this product because it is made with the most gentle exfoliating ingredients that will not overdry, and coconut water and flower petals help to retain the skin's moisture.
A few drops of water is all that is needed to activate the power of exfoliation or instead, leave this product on for a few more minutes and you've got yourself a wonderful mask. This double duty product will give you the most bang for your buck.
For dry skin, use 1-2 times a week. For oily skin, use 2-3 times a week.
To use as an exfoliant: Mix 1 tsp of BUFF with a few drops of water until mixture becomes a runny paste. Massage the mixture onto your face using your fingertips and palms of your hands. Rinse thoroughly then pat dry with a soft towel.
To use as a mask: Using the same directions as an exfoliant, leave the mixture onto your face for 5-10 minutes until dry. Rinse off with warm water then pat dry with a soft towel.

1.4 oz | 40 g


Ingredients: Kaolin (white) clay, cocos nucifera (coconut) flour,* gluten-free avena sativa (oat) kernal flour,* rosa centifolia (rose) petals,* calendula officinalis (calendula) petals,* kaolin (pink) clay, moroccan lava (rhassoul) clay, dehydrated cocos nucifera (coconut) water,* cymbopogon martini (palmarosa) oil,* citrus bergamia (bergamot) oil,* melaleuca alternifolia (tea tree) oil*
*Organic