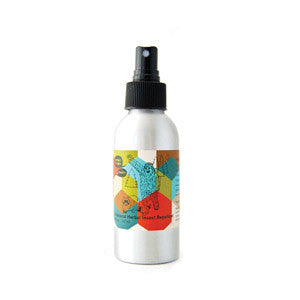 Meow Meow Tweet
Herbal Insect Repellent
Our all natural insect repellent is powerful enough to combat prehistoric mosquitoes without toxic chemicals. Plant-based essential oils combine with natural skin toners to create a body mist that can be sprayed directly onto your skin, hair, and clothes. 
3.8 oz in an aluminum bottle
Spray all over body to exposed skin, as often as needed, avoiding eyes. For best results in the wild, repeat every two hours and spray through hair.
Daily use to keep the biting buggers at bay in the wild or your own background. While camping, spray your sleeping bag and clothes to help prolong it's efficacy. Also try as an underarm deodorant spray and foot spray. Safe for children over 2 years of age and dogs.
EWG Ingredient Scores:
ethyl (grain) alcohol-2
hammamelis virginiana (witch hazel) distillate-1
lavendula angustofolia (lavender) water-0
http://bit.ly/1EuHKRq
acetic acid (apple cider vinegar)-1
cymbopogon schoenanthus (lemongrass) essential oil- 0
lavandula angustifolia (lavender) essential oil-0
http://bit.ly/1EuHKRq
junipers virginia (cedar) essential oil- 1
pelargonium graveoleons geranium)-1
pinus balsamea (fir needle) essential oil-2