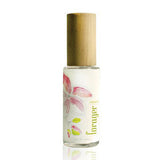 Forager
Island Lei Eau De Perfume - 3 sizes available
This beautifully scented all natural eau de parfum has notes of tropical flowers, sandalwood and vanilla.
We use all natural (organic when possible) botanical essential oils and our products are:
• Free From Harmful Synthetics 
• Color, Paraben, Sulfate and Preservative Free
• Vegan

All of our products are handcrafted in Brooklyn. Our wooden tops are handmade by a local artisan so please allow for slight variation from the item pictured.
Size: 2 fl. oz.

ethyl (grain) alcohol-2
http://bit.ly/1gNGinG
Proprietary essential oil blend