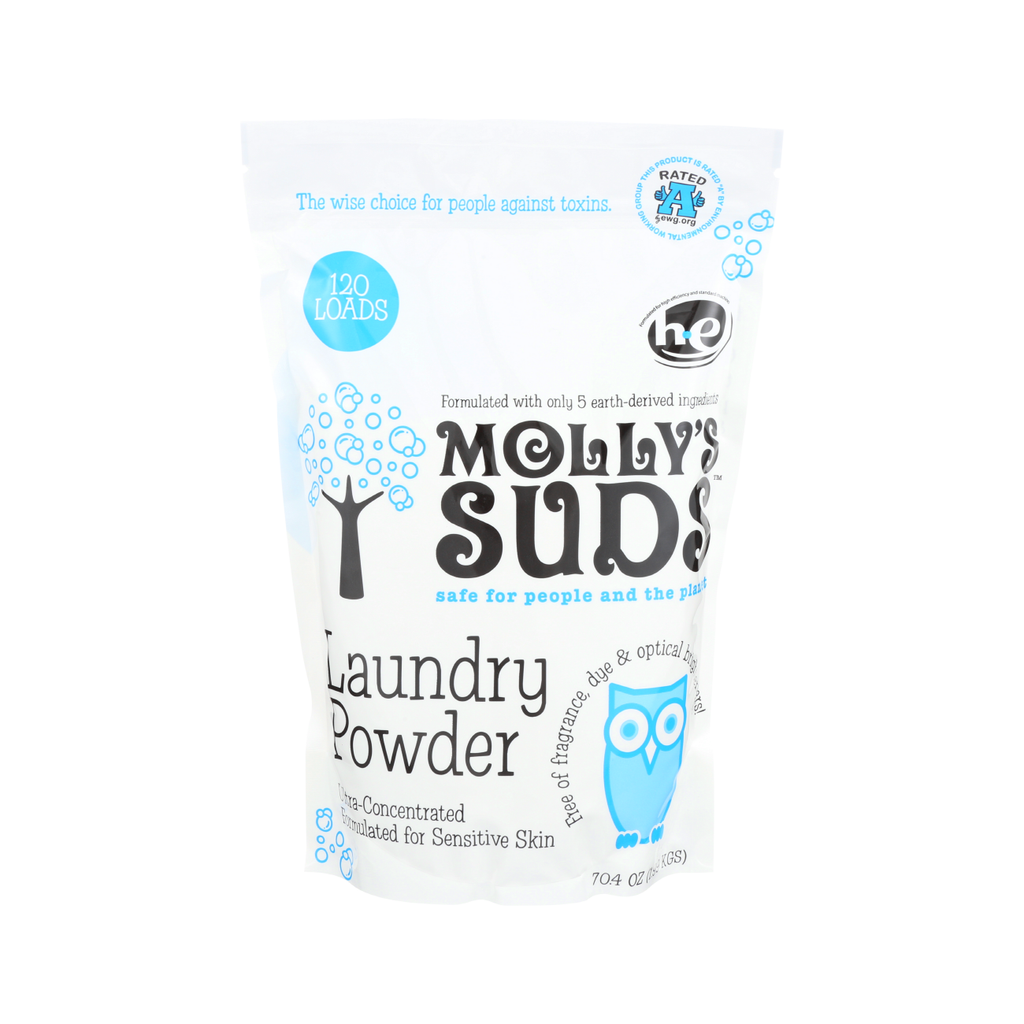 Molly's Suds
Laundry Powder
Comprised of only five earth-derived ingredients and formulated especially for sensitive skin, Molly's Suds Laundry Powder is safe and ideal for your clothes AND your family.
The super-concentrated powder is long-lasting and affordable, with just one tablespoon required per load. Just as effective as conventional brands and more effective than natural brands, without the use of harsh chemicals, toxins, fillers, carcinogens, preservatives or GMO ingredients. Works great in all water temperatures and hard water, and is septic- and High Efficiency (HE) washer-safe.
Sodium carbonate sourced from the Green River Basin in Wyoming, sodium bicarbonate, magnesium sulfate (heptahydrate), unrefined sea salt, and organic (Arvensis) peppermint oil (optional).
Molly's Suds Laundry Powder was formulated with a "no compromise" attitude and we only use the purest of ingredients. Our products and suppliers are Certified Cruelty Free by Leaping Bunny and our ingredients are Certified Vegan.
While there is sodium carbonate in our powder, it is not Super Washing Soda which has contaminants and is not pure without fillers. We use a sustainable trona source located in the Green River Basin in Wyoming. Our sodium carbonate is safe for use in medicinal and food ingredients.
Most detergent companies use sodium carbonates that are synthetically processed with trona, glass and manmade chemicals and sold for laundry and industrial use. It is harsh, unclean and cheap.
Our powder is phthalate and fragrance free but we do use wild crafted organic peppermint oil as a fresh take on scent! It is safe for use in food preparation and only a very small amount is used per large batch. The powder can be ordered without the oil if desired.
Our sea salt and epsom salts are triple filtered in the USA and certified contaminant free, both certified safe for use in organic formulations. Our baking soda is aluminum free and also food grade.
EWG link: http://bit.ly/1gTykd1