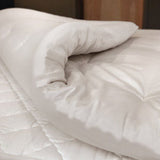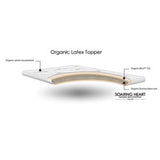 Soaring Heart
Organic Latex Mattress Topper
Latex Topper
The Organic Latex Mattress Topper is not only an upgrade to your mattress, it's an upgrade to your sleep. Two inches of 100% organic, synthetic-free Dunlop latex is wrapped in an inch of premium organic wool and hand-tufted to insure long-lasting comfort.
Our soft Dunlop latex naturally conforms to the curves of your body, providing a luxurious night's rest and a supportive, restorative sleep. By hugging your body, natural latex helps keep the spine straight, which can reduce tossing and turning, and alleviate aches and pains. Surrounding the latex is a layer of fluffy organic wool, a blend of eight breeds of sheep's wool sourced from small farms. Wool's natural insulating properties will keep you cool in the summer and warm during winter while its mildew and dust mite resistance will keep you healthy and safe.
Comfort Layer
Soaring Heart's mattress toppers were designed with our own mattress supports in mind, but will work wonderfully on any standard size mattress, instantly making an old bed feel like new again. Place on top of the mattress, but under the mattress pad (we recommend an all natural or organic pad) and sheets, where it will stay securely in place on your bed night after night.
Our mattress toppers are very easy to care for. While our toppers will naturally conform to your body contours with use, regular flipping, airing and a good old hardy fluffing, will provide years of comfort. We recommend flipping your mattress topper whenever you change your sheets or every one to two weeks. With proper maintenance your new topper should last between five and ten years.
Pure Comfort
When we say all natural and pure, we mean it. Since 1982 Soaring Heart Natural Bed Company has been making mattresses and bedding using time-tested techniques, honed and polished over three decades. Everything is made by hand and we use only the highest quality materials available, sourced locally and sustainably. We work closely with all of our suppliers, getting to know them and their product,  collaborating so we can meet and exceed our exacting standards. We take huge pride in our products and in all the people behind them.
It's because of these special relationships with our suppliers and their wonderful wool, latex, and cotton that we don't feel the need to spoil it with chemicals or synthetics. No Soaring Heart product has any synthetics, any chemicals, any fire retardants whatsoever. Nothing but good, honest materials provided by good, honest people.
Certifications
At Soaring Heart Natural Beds we are proud to have one of only two Global Organic Textile Standard certified organic workshops, where we make mattresses and bedding from the best materials on earth. For over thirty years we have been an authority in the mattress and organic industry, setting the bar higher and higher for both ourselves and our partners.
You spend eight hours a day on your mattress and we want those to be the best eight hours of your day. That is only possible when you use the best, time honored, mattress crafting techniques and the highest quality materials.
USDA Certified Organic Cotton, Wool, & Latex
All of our American grown long-fiber cotton, wool, and synthetic free latex is certified organic by the United States Department of Agriculture. 
Global Organic Latex Standard (GOLS) Certified Organic Latex
All of our latex is certified organic and chemical free by the Global Organic Latex Standard, an organization that ensures all the latex, farming, and manufacturing processes meet strict global organic standards. GOLS is a globally recognized and respected certifier. 

Global Organic Textile Standard (GOTS) Certified Workshop
The Global Organic Textile Standard is Oregon Tilth's organic certification and is the most widely respected and most stringent organic certifications in the industry. We work out of one of only two GOTS certified workshops using 100% GOTS certified organic wool. 

Oregon Tilth Organic Certified Wool
All of our organic wool is certified organic by Oregon Tilth, one of the most--if not the most--respected organic certification agencies in the world. 
 

Consumer Product Safety Commission 
Every Soaring Heart Natural Bed Company organic mattress, futon, and shikibuton has been tested by the CPSC and meet all federal, state, and Canadian flammability requirements without the use of any chemical or synthetic fire retardants. Our mattresses, futons, and shikibutons meet all flammability performance criteria under CPSC Statutes 1632 and 1633.
Texas Department of Agriculture Certified Organic Cotton
All of our long-fiber organic cotton is grown in Texas by the Texas Organic Cotton Marketing Cooperative, which produces the majority of organic cotton in the United States. The cotton is certified organic by the Texas Department of Agriculture, who has been a leader in the development of organic standards and certifications in the USA.
Certified Non-GMO Cotton, Wool & Latex
All of our organic cotton batting, organic wool, and organic latex is certified non-GMO (Genetically Modified Organism) by the Global Organic Textile Standard and Global Organic Latex Standard, respectively. 
Made in Seattle, USA
Soaring Heart Natural Beds is a founding member of Seattle Made, a collaborative initiative to support and grow Seattle's urban manufacturers and producers. All Soaring Heart Natural Beds products are handcrafted in our Seattle workshop.