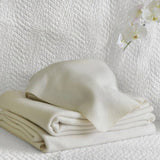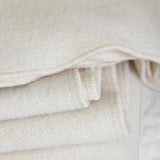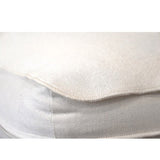 Soaring Heart
Organic Wool Mattress Pads
Mattress Pad
Did you know that you lose about a pint of moisture every single night? Some of that is released in our breath, but most of it is sweat and body oil and it goes straight down, into your mattress. Unpleasant right?
Organic Wool Mattress Pads are handmade in our Seattle shop from Oregon Tilth certified organic Pacific Northwest wool sourced from small farms on the Oregon and California coasts. They act as a barrier against sweat, body oils, accidents, and spills by repelling and wicking away moisture before it reaches your mattress. You can't throw your mattress or mattress topper in the washing machine, but you can wash the Organic Wool Mattress Pad. By using a mattress pad you are keeping your mattress clean, preserving the materials and craftsmanship, and potentially doubling its lifespan. How important do we think using an all natural or organic mattress pad is? Our 20 Year Warranty is contingent upon you owning and using one. Protect your peace of mind and your investment with an Organic Wool Mattress Pad.
Why go all natural or organic? Simple, synthetic materials—such as polyester—reflect body heat and raises your body temperature, which makes you sweat more. This can make sleeping uncomfortable for you, your partner, and leaves a clammy feeling in the morning. Wool repels and wicks away sweat and body moisture naturally, cooling your body and reducing sweating and clamminess.
Extra Protection
Need extra protection? People with pets, children, or who like having a nice cup of tea or coffee in bed may want extra protection to guard against spills. In these cases we always recommend layering a cotton mattress pad (organic or natural will both do fine) and an Organic Wool Mattress Pad. Cotton absorbs moisture and wool repels and wicks moisture away. When used in concert, an Organic Wool Mattress Pad underneath a cotton mattress pad, they can block up to a cup of liquid.
Care
Organic Wool Mattress Pads are designed to last. You can wash your mattress pad as much as you want, daily if it makes you feel better, but we recommend washing it at least every two weeks (or when you wash your sheets).
Only wash your new Organic Wool Mattress Pad with cold water. Tumble dry gentle on low heat or hang dry.
Organic Wool Mattress Pads are un-fitted, being held in place by your sheets, and are designed to shrink-to-fit. Wash and dry before use.
Certifications 
At Soaring Heart Natural Beds we are proud to have one of only two Global Organic Textile Standard certified organic workshops, where we make mattresses and bedding from the best materials on earth. For over thirty years we have been an authority in the mattress and organic industry, setting the bar higher and higher for both ourselves and our partners.
You spend eight hours a day on your mattress and we want those to be the best eight hours of your day. That is only possible when you use the best, time honored, mattress crafting techniques and the highest quality materials. 
USDA Certified Organic Cotton, Wool, & Latex
All of our American grown long-fiber cotton, wool, and synthetic free latex is certified organic by the United States Department of Agriculture. 
Global Organic Latex Standard (GOLS) Certified Organic Latex
All of our latex is certified organic and chemical free by the Global Organic Latex Standard, an organization that ensures all the latex, farming, and manufacturing processes meet strict global organic standards. GOLS is a globally recognized and respected certifier.

Global Organic Textile Standard (GOTS) Certified Workshop
The Global Organic Textile Standard is Oregon Tilth's organic certification and is the most widely respected and most stringent organic certifications in the industry. We work out of one of only two GOTS certified workshops using 100% GOTS certified organic wool. 

Oregon Tilth Organic Certified Wool
All of our organic wool is certified organic by Oregon Tilth, one of the most--if not the most--respected organic certification agencies in the world. 
 

Consumer Product Safety Commission 
Every Soaring Heart Natural Bed Company organic mattress, futon, and shikibuton has been tested by the CPSC and meet all federal, state, and Canadian flammability requirements without the use of any chemical or synthetic fire retardants. Our mattresses, futons, and shikibutons meet all flammability performance criteria under CPSC Statutes 1632 and 1633.
Texas Department of Agriculture Certified Organic Cotton
All of our long-fiber organic cotton is grown in Texas by the Texas Organic Cotton Marketing Cooperative, which produces the majority of organic cotton in the United States. The cotton is certified organic by the Texas Department of Agriculture, who has been a leader in the development of organic standards and certifications in the USA.
Certified Non-GMO Cotton, Wool & Latex
All of our organic cotton batting, organic wool, and organic latex is certified non-GMO (Genetically Modified Organism) by the Global Organic Textile Standard and Global Organic Latex Standard, respectively. 
Made in Seattle, USA
Soaring Heart Natural Beds is a founding member of Seattle Made, a collaborative initiative to support and grow Seattle's urban manufacturers and producers. All Soaring Heart Natural Beds products are handcrafted in our Seattle workshop.