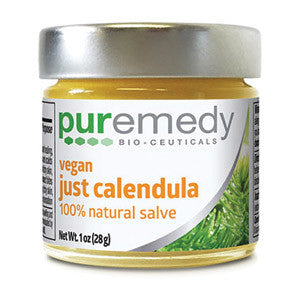 Puremedy
Just Calendula - 2oz
This mild skin salve is Puremedy's simplest formula. Use for dry skin and other minor skin irritations.

Directions:

Apply the cream with a bandaid, twice a day, or rub on skin as needed.


TEST FOR ALLERGY BEFORE USE BY RUBBING SMALL AMOUNT ON SKIN.
Do not use if allergic to or sensitive to any ingredient in this salve.

Uses: To relieve symptoms associated with a wide variety of skin issues including:

cuts, burns, rash, itchy skin, sun burn
wounds skin infection insect bites bee stings and more...
2oz
Ingredients:

Organic Calendula flower
Organic Extra Virgin Olive Oil
Organic Candelilla wax
Organic Castor Oil
EWG ingredients score:
http://bit.ly/1JDXKSG: 0
http://bit.ly/1Mjf5qv: 2
http://bit.ly/1IRMWjb: 0
http://bit.ly/1InjIgl: 0
http://bit.ly/1ICBfh8: 0