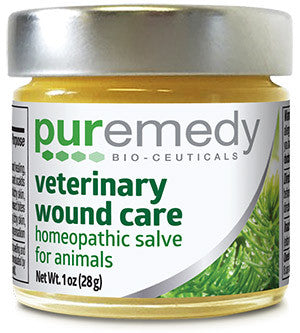 Puremedy
Veterinary Wound Care - 1oz
Each ingredient is food grade, and this homeopathic salve may be ingested for certain internal conditions like sore throat, stomach virus or congested lungs. Most animals do like to eat the salve, so you may want to use a cone, or try to bandage the area in order to keep the animal from licking it off. If they do lick it off, it won't hurt the animal - you'll just need to apply more of the salve.
Perfect for:
- skin rashes, infections, sores
- open wounds, post-surgical incisions
- cuts, burns, insect and fly bites
- dry noses and much more
Directions:

Apply the salve 2 - 3 times per day to the affected area as needed. Cover with a bandaging if 
possible.
TEST FOR ALLERGY BEFORE USE BY RUBBING SMALL AMOUNT ON SKIN. 
Do not use if allergic to or sensitive to any ingredient in this salve.
Ingredients:

Wild harvested pine resin
Wild harvested elderberry bark
Organic elder flower
Organic calendula flower
Organic extra virgin olive oil
Organic beeswax
EWG ingredients score:
http://bit.ly/1DAImKg: 0
http://bit.ly/1IRLXQ8: 0
http://bit.ly/1ICBfh8: 0
http://bit.ly/1JDXKSG: 0
http://bit.ly/1TXAXJ5: 0