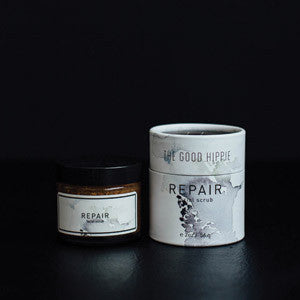 The Good Hippie
Repair Facial Scrub
O V E R V I E W : 
For oily - problem skin.
A blend of gently exfoliating almond flour, white clay, bamboo powder, raspberries, and lavender softens, renews, and brings a clarity to your skin.
Exfoliating is an essential part of any skincare ritual. It assists in cell regeneration + removing dead skin, revealing glowing, healthy complexion.
K E Y   I N G R E D I E N T S :
ALMOND FLOUR:  Emollient and cleansing, they soften the skin, provide relief to enlarged pores, and gently exfoliate.
WHITE KAOLIN CLAY:  A gentle clay, perfectly suited for acne-prone and sensitive skin. Cleansing, calming, and detoxifying. Heals existing breakouts and prevents new ones.
BAMBOO POWDER:  Rich in essential minerals and silica, bamboo renews, re-mineralizes, and conditions the skin while evening out skin tone.
O U R   P R O M I S E :
PURE + NATURAL. Absolutely no useless fillers, artificial ingredients, animal products, parabens, sulfates, artificial fragrances, coloring, dyes, or harmful preservatives.
KIND + PEACEFUL. Our products are vegan and no animal testing is conducted on our products or ingredients.
SUSTAINABLE + ETHICAL. We carefully source our raw materials and packaging with a sense of responsibly to and utmost respect of Mother Earth.
D E T A I L S:
Packaged in a 2oz reusable glass jar
TO USE:  With clean/dry fingers or spoon, scoop out a small amount of scrub and work into wet skin. Breathe deeply. Feel clarity and light. Rinse clean.
C O M P L E T E   I N G R E D I E N T   L I S T:   prunus amygdalus dulcis (sweet almond) nut, vitis vinifera (grapeseed) oil, kaolin (white) clay, bambusa arundinacea (bamboo) powder, rubus occidentalis (raspberry) fibers and seeds, sambucus nigra (elder) flowers*, vegetable glycerine, tocopherol (vitamin E, non-GMO), rosmarinus officialis (rosemary) leaf extract*, lavandula angustifolia (lavender) essential oil*
*certified organic
EWG Ingredient Links
prunus amygdalus dulcis (sweet almond) nut-0
http://bit.ly/1OD5XuP

vitis vinifera (grapeseed) oil-0
http://bit.ly/1TGKj9T

kaolin (white) clay- 0-1
http://bit.ly/1hMJxfJ

bambusa arundinacea (bamboo) powder-1
http://bit.ly/2kWMVZS

rubus occidentalis (raspberry) fibers and seeds-1
http://bit.ly/2lmrYIT

sambucus nigra (elder) flowers-1
http://bit.ly/2kWLnPI

vegetable glycerine-0
http://bit.ly/1CVxwhU

tocopherol (vitamin E, non-GMO)-0
http://bit.ly/1JaiMMJ

rosmarinus officialis (rosemary) leaf extract*-0
http://bit.ly/1MVtNEc

lavandula angustifolia (lavender) essential oil-1
http://bit.ly/1EuHKRq