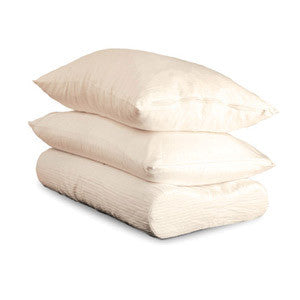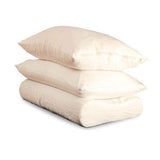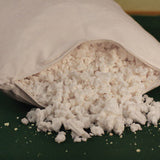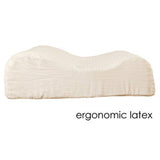 Soaring Heart
Organic Latex Pillows
All natural latex has a lot of benefits:  it's resilient and long lasting, remaining perfectly fluffed and lofty no matter how many times you use it; it's hypo-allergenic as well as dust mite and moisture resistant, making it perfect for allergy sufferers; and it doesn't heat up overnight. But the best thing about our Natural Latex pillows is how comfortable they are.Comfort is king, but the other natural advantages of latex are hard to ignore. Latex pillows are our most durable pillows and will provide you with long lasting comfort you can count on. You will have the same pillow every night, night after night—and never have to fluff it or shake it out. The Natural Latex pillow is made with soft, springy latex, which makes it perfect for side sleepers and back sleepers alike.
Includes removable washable cover.
Thick and supple, Dunlop latex contours to your neck, gently lifting and supporting your head at the proper elevation, and helping to keep the neck and head aligned with the spine. And since latex has a naturally open cell structure, it does not retain body heat the way memory foam does, letting you sleep easier and more comfortably.
 The Ergonomic Latex Pillow is designed to provide exceptional support for the neck and head, relieving neck tension and strain. Its duel zones allow for both side and back sleepers to sleep comfortably as it cradles your head and provides your neck with extra support by forming to its unique curvature which alleviates strain on the muscles and vertebrae.
Keeping the neck, head, and spine properly aligned reduces tension and opens up your airways, which can decrease snoring and other sinus-related issues, promoting a deeper, more relaxing night's rest.

Like the Natural Latex Pillow, the Ergonomic Latex Pillow will hold its shape for years, requiring no fluffing, shaking, or shaping. You get the same pillow every night, night after night and the latex's natural open cell structure doesn't retain body heat, thus keeping the pillow cool and you comfortable.

Includes removable washable cover.
The Organic Shredded Latex Pillow has fast become a favorite and one of our top sellers. One of the advantages of a latex pillow is that it will never change its shape. However, to people who like to fluff and mold their pillows, the ergonomic and natural latex pillows leave them wanting. The Organic Shredded Latex Pillow is the best of both worlds: shredding our wonderful 100% GOTS certified Dunlop latex (the same latex used in our Signature Mattresses) gives you the perfectly scrunch-able, malleable pillow they want with all the lasting hypo-allergenic, moisture and mildew resistant, benefits of latex.