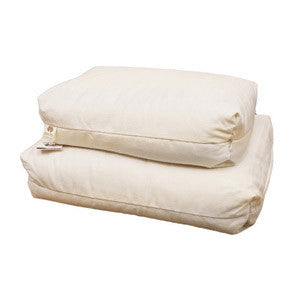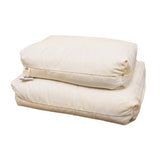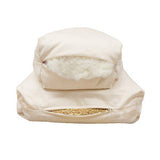 Soaring Heart
Organic Millet & Wool Pillow
The Organic Millet & Wool Pillow's unique duel-chamber design allows you to get the best of both worlds; the supportive nature of millet and soft fluffy feel and cooling of wool. The millet, like the Latex Support in our latex mattresses, provides your with stable support, cradling your head in alignment with your spine and maintaining that position.

The wool in the top chamber acts like a mattress topper, creating an additional layer of comfort over the millet, making the pillow softer without sacrificing any support.

Due to the firmness of buckwheat and millet, these pillows generally can't be used by side sleepers, as it can hurt their ears, but the simple yet brilliant duel-chamber design of the Organic Millet & Wool Pillow lets everyone experience the incredible support of millet.
The pillow is easly adjusted; place the pillow on your bed with the wool on top for four inches of loft. Need more height? Simple, flip the pillow up onto it's side so that that wool is facing forward. In this position, the pillow also works as a great headrest to prob yourself up and enjoy your favorite book or movie.

If the pillow is too lofty, remove some of the millet hulls from the lower chamber with the convenient zipper, and adjust accordingly. Put the hulls away in a tuppaware or ziplock to be used later.
Pillows are available in two sizes: Rejuvination 20" x 14.5" x 4.5" and Shambho 16" x 10" x 4.5". The pillows are made exclusively of certified organic millet, Premium Eco-Wool, and certified organic cotton. The finished pillow is about 25-30% wool and 70-75" organic millet.

These pillows cannot be washed, use of a pillowcase at all times is recommended.