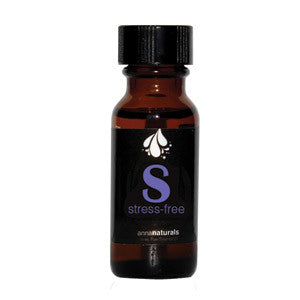 Anna Naturals
Stress Free Essential Oil Blend
Relieve stress and worry, naturally. Life can get overwhelming. If you're tense, strained and just frazzled try stress-free Pure Essential Oil to help relax and calm down. Comes in a 15mL glass bottle.
Stress is a part of life, there's no getting around that. How we deal with stress, though, is under our control. Stress-Free is a unique blend of both calming and uplifting essential oils to help relax while providing the strength to deal with the issues at hand.
TO USE: Add 2-4 drops to your favorite diffuser, or add a few drops to 2oz distilled water for an aromatherapy spray. To use topically, it's recommended to dilute 1-2 drops in a carrier oil to reduce the possibility of skin irritation.
 
Essential oils and aromatherapy have long been known as soothing, effective ways to deal with stress. This unique blend of therapeutic-grade essential oils does double-duty to not only calm the body and mind but also keep it going, for those times when you need to relax but not to the point where you can go to bed or even take a nap. Stress Free is perfect for those tough days and gathering the strength to push through it all.
100% Pure Therapeutic Grade Essential Oils of Lavender, Geranium, Marjoram, Ylang Ylang, Clary Sage and Chamomile
LAVANDULA ANGUSTIFOLIA (LAVENDER) OIL-1
http://bit.ly/1EuHKRq
pelargonium graveoleons geranium)-1
http://bit.ly/1Md4dLQ
THYMUS MASTICHINA (MARJORAM) OIL-1
http://bit.ly/2dQjzZ6

CANANGA ODORATA (YLANG YLANG) OIL-3
http://bit.ly/1emPP3x 
SALVIA SCLAREA (CLARY SAGE) OIL-1
http://bit.ly/2dQqcvA
ANTHEMIS NOBILIS (CHAMOMILE) FLOWER OIL-1
http://bit.ly/1VbsvXa