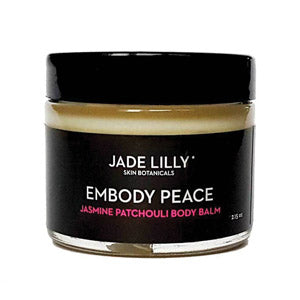 Jade Lilly Skin Botanicals
Triple Butter Body Balm
Decadent butters and oils, blended to create a body balm that will infuse your skin with hydration, vitamins and nutrients. Long lasting formula leaves you with velvety soft skin. Body balm keeps it's creamy texture until it touches your skin; melts on contact and absorbs quickly. 
100% Natural, Vegan + Cruelty-Free
2.15 oz
INSTRUCTIONS FOR USE: 
Scoop out a small amount with clean, dry fingers or cosmetic spatula and smooth over skin. Gently massage until absorbed into skin. A little goes a long way...however much you think you need, use half to start. 
EWG INGREDIENT LINKS: 
MANGO BUTTER (Mangifera Indica Seed Butter)-0
http://bit.ly/1TL9iy8
FAIR TRADE ORGANIC COCONUT OIL (Cocos Nucifera Oil)-0
http://bit.ly/1GLHD3p
FAIR TRADE ORGANIC SHEA BUTTER (Butyrospermum Parkii Butter)-0
http://bit.ly/1OD7hOr
Sal Butter (Shorea Robusta Butter)-1
http://bit.ly/2mnufF7
Illipe Butter (Shorea Stenoptera Seed Butter)-1
http://bit.ly/2nMNghq
FAIR TRADE ORGANIC COCOA BUTTER (Theobroma Cacao Seed Butter)-0
http://bit.ly/1Lljrgp
ORGANIC JOJOBA OIL (Simmondsia Chinensis Seed Oil)-0
http://bit.ly/1WFhU8o
RICE BRAN OIL (Oryza Sativa Bran Oil)-2
http://bit.ly/2n2DKqs
APRICOT KERNEL OIL (Prunus Armeniaca Kernel Oil)-1
http://bit.ly/1Odj7BE
CANDELILLA WAX (Euphorbia Cerifera Wax)-1
http://bit.ly/2ngRJee
CALENDULA EXTRACT (Calendula Officinalis Extract)-1
http://bit.ly/1ICBfh8
VITAMIN E (Tocopherol)-0
http://bit.ly/1JaiMMJ
*NATURAL FRAGRANCE  
*NATURAL FRAGRANCES MADE OF ESSENTIAL OILS

CHOOSE POSITIVITY - LEMON VANILLA: LEMON OIL (Citrus limon (L.) Burm.F. Oil), VANILLA OIL (Vanilla Planifolia)

ENVISION CALM - LAVENDER NEROLI: LAVENDER OIL (Lavandula Angustifolia Oil), NEROLI OIL (Citrus Aurantium Amara Oil), LEMON OIL (Citrus limon (L.) Burm.F. Oil), TANGERINE OIL (Citrus Reticulata Oil)

EMBRACE LOVE - GERANIUM VANILLA: GERANIUM OIL (Pelargonium Graveolens Oil), VANILLA OIL (Vanilla Planifolia), VETIVER OIL (Vetiveria Zizanoides Oil)

AWAKEN BLISS - CITRUS GINGER: ORANGE OIL (Citrus Sinensis Oil), BERGAMOT OIL (Citrus Bergamia Oil), PINK GRAPEFRUIT OIL (Citrus Paradisi Oil), HO WOOD OIL (Cinnamomum Camphora Oil), GINGER ROOT CO2 (Zingiber Officinalis), LAVENDER OIL (Lavandula Angustifolia Oil)
EMBODY PEACE - JASMINE PATCHOULI: VANILLA (Vanilla Planifolia) , JASMINE OIL, PATCHOULI OIL (Pogostemon Cablin Oil)