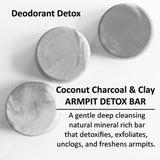 Zabana Essentials
Armpit Detox Bar Coconut Charcoal & Clay
COCONUT CHARCOAL & CLAY ARMPIT DETOX BAR=
Naturally occurring earth minerals & plant botanicals to your armpits rescue!
A gentle deep cleansing natural mineral rich bar that detoxifies, exfoliates, unclogs, and freshens armpits. Great to have during the Natural Deodorant Detox Transition or to use to keep your armpits extra fresh and clean when needed, plus Skin Rejuvenating & Healing Oils of: Olive, Coconut, and Shea Butter.
TO USE:
Moisten bar and create a lather with hands, once you have created a lather apply to armpits and rub in a circular motion. Let lather rest on armpits for 2-3 minutes then rinse.                                                                                                                        
*Organic, 100% NATURAL & VEGAN, Net wt. 4 oz. (113g)
EWG Ingredients Scores:
Olea (Olive) Europaea Oil- 1
Cocos Nucifera (Coconut) Oil-0
http://bit.ly/1GLHD3p
Butyrospermum Parkii (Shea) Butter-0
Cocos Nucifera (Coconut)-0
Activated Charcoal-1
Dead Sea Salt-1
Zinc Oxide- 2-3
Bentonite Clay-2