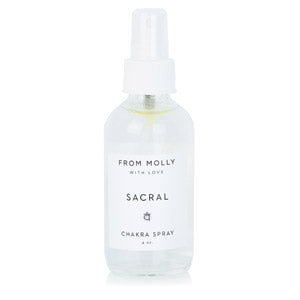 aware house
Sacral Chakra Spray
Aromatherapy essential oil spray for use during meditation, yoga or any type of metaphysical emotional healing work to help open, balance and expand the energy in your Sacral Chakra. This spray is perfect for chakra healing, chakra balancing, and spiritual awareness.
Basic Sacral Chakra Info:
Svadhisthana Chakra
Sacral Chakra: Also called 2nd or Orange Chakra
Chakra color: Orange
Location: Lower abdomen, genitals, womb
Element: Water
Function: Desire, pleasure, sexuality, procreation, creativity, emotions, nurturance
Seed Sound: Vam
Aspects it Controls: The Sacral Chakra is the seat of emotion. Associated with the color orange, the sacral chakra (taken from the Sanskrit word svadhisthana, meaning "dwelling place of the self") governs our ability to initiate, nurture and maintain healthy interpersonal relationships. Located in the lower abdomen, it is the hub of our creativity and guides us see beyond the mundane to embrace our dreams and desires. A balanced sacral chakra offers balance, grounding, and strength.
Reasons you'd want to clear the Sacral Chakra:

premenstrual syndrome
anemia
hypoglycemia (low blood sugar)
lower back pain
joint problems
spleen and kidney issues
low energy
infertility
Ingredients:

Ionized, pH-Balanced Quartz-Infused Water, Hamamelis (Witch Hazel), Santalum Album (Sandalwood) Essential Oil, Pelargonium (Geranium) Essential Oil, Citrus Sinensis (Orange) Essential Oil.