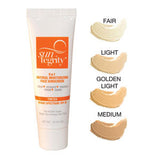 Suntegrity
"5 In 1" Natural Moisturizing Face Sunscreen - Tinted , Broad Spectrum Spf 30 - 4 Shades Available
How to Choose a Color:
Fair - Suitable for people with very fair skin similar to Nicole Kidman, Naomi Watts, Zooey Deschanel, Kristen Stewart, Dakota Fanning, Kate Bosworth, Kate Winslet, Amy Adams, & Anne Hathaway.
Light - Suitable for light skin tones similar to Angelina Jolie, Meg Ryan, Julia Roberts, Katie Holmes, Carrie Underwood and Hillary Swank.
Golden Light - Suitable for skin tones with a golden undertone similar to the following actress typically when they have a tan/spray tan: Jennifer Aniston, Cameron Diaz, Lucy Liu and Sandra Oh.
Medium  - Suitable for medium and olive skin tones similar to Eva Mendez, Jennifer Lopez, Halle Barry, Paul Patton & Kim Kardashian.
Deep Bronze - Suntegrity has discontinued this shade.
An all in one, "UV Chemical-Free" Tinted Sunscreen/Beauty Benefit (BB) cream that treats, hydrates, protects, primes and covers the skin. Supercharged with youth promoting antioxidants that help to scavenge surface free radicals, this cream also provides mineral Broad Spectrum SPF 30 protection. Hyaluronic acid, astaxanthin, red algae and Certified Organic: aloe vera, jojoba, sunflower, pomegranate, cucumber, and green tea help provide additional sun protection and hydration. Non-nano sized zinc-oxide not only protects the skin from the damaging UV rays, but it also soothes and calms the skin. Zinc-oxide is known for it's anti-inflammatory properties that often help skin conditions like rosacea, acne, and melasma.
Carefully made for all skin types, it is:

- Free of: Parabens, Phthalates, Propylene Glycol, Mineral Oils, Synthetic Dyes, Sulfates, Paba, Titanium Dioxide, Nano-Particles and Chemical UV Absorbers.

- Vegan

- Non-Greasy
- Fragrance-Free

- Cruelty Free (PETA & Leaping Bunny Cert.)

Size: 1.7 oz / 50 ml
Ingredients:
Active Ingredient: Zinc-Oxide 20%

Inactive Ingredients: Aloe Barbadensis (Organic Aloe Vera) Leaf Juice, Capric Caprylic Triglycerides (Coconut Oil Extract), Water (Aqua), Sorbitan Stearate (Plant Derived), Glyceryl Stearate (Plant Derived), Polyglyceryl-4 Isostealant Derived), Hexyl Laurate (Plant Derived), Simmondsia Chinensis (Organic Jojoba) Seed Oil, Cetyl Dimethicone (Mineral Derived), Magnesium Sulfate (Epsom Salt), Helianthus Annuus (Organic Sunflower) Seed Oil, Cucumis Sativus (Organic Cucumber) Fruit Extract, Astaxanthin (Algae Source), Hyaluronic Acid (Plant Derived), Chlorella Emersonii (Red Algae) Extract, Camellia Sinensis (Organic Green Tea) Extract, Punica Granatum (Organic Pomegranate) Seed Oil, Polyaminopropyl Biguanide*, Ethylhexylglycerin*, Iron Oxide.
*paraben-free preservative
 EWG score: 1
http://bit.ly/1VNEw6p