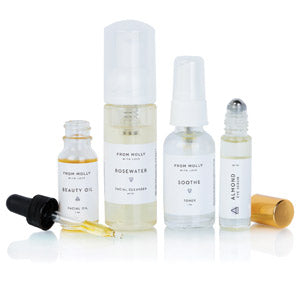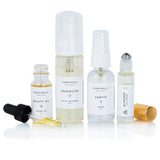 From Molly With Love
Travel Size Facial Skincare Set
When you're on the go, you don't have to sacrifice your skincare routine. Our travel kit contains smaller versions of our most essential face care products and is an excellent introduction for folks new to all-natural skin care.
The set comes with three travel-size face care products and one FULL-SIZE Almond Eye Serum (which is also safe to travel with). Products are ideal for all skin types, but especially mature skin, dry skin, sensitive skin, and combo skin. This facial set is made with only natural, organic, high-quality ingredients, and will soothe your face & solve your most pressing skin issues without the use of chemicals.
► Contents:
ROSEWATER Cleanser – 50 ml
SOOTHE Toner – 2 oz.
BEAUTY Oil – 1 oz.
ALMOND EYE Serum- 10 ml (FULL SIZE – 14.99 Retail Value)

Rosewater Cleanser:
Ingredients: Ionized, pH-Balanced Quartz-Infused Water-0
http://bit.ly/1LxgZRj

Rosa Damascena (Rose Water)-1
http://bit.ly/2lNuh8s

Saponified Coconut Oil-0
http://bit.ly/1GLHD3p

 Caprylic/Capric Triglyceride (Fractionated Coconut Oil)-1
http://bit.ly/1Jj5xcH

Lavandula Angustifolia (Lavender) Essential Oil-0
http://bit.ly/1EuHKRq

Rosa Damascena (Rose Absolute) Essential Oil-1
http://bit.ly/2nETxPe


Beauty Oil:
Helianthus Annuus (Sunflower) Oil-1
http://bit.ly/1Ul3Ql1

Prunus Dulcis (Almond) Oil-0
http://bit.ly/1OD5XuP

Simmondsia Chinensis (Jojoba) Oil-0
http://bit.ly/1WFhU8o

Rosa Rubiginosa (Rosehip Seed) Oil-0
http://bit.ly/1KpNDGX

Rosa Damascena (Rose Absolute) Essential Oil-1
http://bit.ly/2nETxPe

Jasminum Grandiflorum (Jasmine) Essential Oil-0
http://bit.ly/1WT7kuJ

Santalum Album (Sandalwood) Essential Oil--1
http://bit.ly/1lRfWV0
Almond Eye Serum:
Prunus Dulcis (Sweet Almond) Oil-0
http://bit.ly/1OD5XuP

Boswellia (Frankincense) Essential Oil-1
http://bit.ly/1fGSwgO  

Lavandula Angustifolia (Lavender) Essential Oil-0
http://bit.ly/1EuHKRq
 
Citrus Limon (Lemon) Essential Oil-0
http://bit.ly/1JjRU9G
Soothe Toner:
ionized,  pH-Balanced Quartz-Infused Water-0
http://bit.ly/1LxgZRj

Rosa Damascena (Rose Water Hydrosol)-1
http://bit.ly/2lNuh8s

Rosa Damascena (Rose Absolute) Essential Oil-1
http://bit.ly/2nETxPe

Lavandula Angustifolia (Lavender) Essential Oil-0
http://bit.ly/1EuHKRq