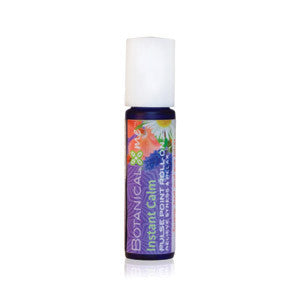 Botanical Me
Instant Calm
Carry this blend of calming essential oils in your pocket or purse to quickly erase stress, support the nervous system and restore emotional balance. Or roll on before bedtime for a more peaceful sleep.
What:
A relaxing aromatherapy blend to roll on your neck, shoulders and pulse points. Massage into skin and inhale deeply to feel instantly comforted and relieved. Plus, the beautiful floral aroma will bring you compliments as well as calm. 
Why:
To soothe emotional upset, aid peaceful sleep and relaxation. 
How:
Instant Calm earns its ability due to an intoxicating medley including African grown chamomile, lavender and rose geranium essential oils which are soothing to the nervous system.
To Use:
For soothing relaxation, massage into neck and shoulders. Inhale aroma deeply.
As a personal fragrance, roll onto wrists, pulse-points, and other areas desired such as stomach or chest.
*Our blend of 100% pure, therapeutic essential oils including lavender, chamomile and geranium. 
No synthetic fragrances, ever! We always keep it real!
EWG Ingredients Links:
Caprylic/capric triglyceride (coconut oil)- 1
essential oil blend