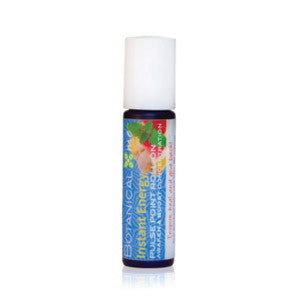 Botanical Me
Instant Energy
Keep this invigorating blend of essential oils in your pocket or workstation to boost concentration and sharpen mental focus.
What:
An invigorating aromatherapy blend to roll on your neck, shoulders and pulse points. Made with grapefruit, mint, and African ginger essential oils. Massage into skin and inhale deeply for a quick burst of energy and refreshment. 
Why:
To increase stamina, relieve muscle tension and restore mental clarity.
How:
A potent mix of essential oils including peppermint, eucalyptus, rosemary and Madagascar ginger.
To Use:
Massage into shoulders, neck, temples and earlobes. Inhale aroma deeply. Especially helpful when studying or working.
As a personal fragrance, roll onto wrists, pulse-points, and other areas desired such as stomach or chest.
Ingredients:
Caprylic/capric triglyceride (coconut oil)-1
*Our blend of 100% pure, therapeutic essential oils, including peppermint, eucalyptus, rosemary and ginger. No synthetic fragrances, ever. We keep it real!