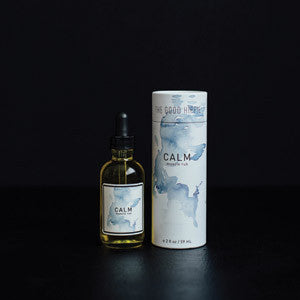 The Good Hippie
Calm Muscle Rub
O V E R V I E W : 
Our muscle rub is a blend of pure, nourishing botanicals oils + pain-relieving, anti-inflammatory essential oils. It creates a powerful massage oil that helps ease the discomfort of painful muscles & joints.
K E Y   I N G R E D I E N T S :
CLOVE ESSENTIAL OIL: Assists in alleviating pain thanks to it's analgesic and anti-inflammatory properties.
GINGER ESSENTIAL OIL: Also has analgesic & anti-inflammatory properties that when topically massaged, aids in relieving pain.  It is also believed that ginger can reduce prostaglandins, which are the compounds associated with pain. 
HELICHRYSUM: Decreases muscle pain by lowering swelling, inflammation, and improving circulation.
SWEET MARJORAM: An analgesic that has a warming effect which improves circulation, relieving pain.
SAFFLOWER OIL: Enables the skin to retain moisture and hydration, lending a healthy glow, increased elasticity, and smooth texture.
GRAPESEED OIL:  A light oil that is readily absorbed into the skin, providing long-lasting moisture, protection, and nourishment.
O U R   P R O M I S E :
PURE + NATURAL. Absolutely no useless fillers, artificial ingredients, animal products, parabens, sulfates, artificial fragrances, coloring, dyes, or harmful preservatives.
KIND + PEACEFUL. Our products are vegan and no animal testing is conducted on our products or ingredients.
SUSTAINABLE + ETHICAL. We carefully source our raw materials and packaging with a sense of responsibly to and utmost respect of Mother Earth.
D E T A I L S:
Packaged in a 2oz reusable glass bottle
TO USE:  Massage into painful muscles or joints. Breathe deeply. Feel tranquility and calm. Apply as often as needed.
C O M P L E T E   I N G R E D I E N T   L I S T:   vitis vinifera (grapeseed) oil, carthamus tinctorius (safflower) oil*, tocopherol (vitamin E, non-GMO), rosmarinus officialis (rosemary leaf) extract*, essential oils of: syzygium aromaticum (clove) bud, zingiber officinale (ginger)*, helichrysum italicum (immortelle), origanum marjorana (sweet marjoram)
*certified organic
EWG Ingredient Links
vitis vinifera (grapeseed) oil-0
http://bit.ly/1TGKj9T

carthamus tinctorius (safflower) oil-0
http://bit.ly/1gNGwer
 
tocopherol (vitamin E, non-GMO)-0
http://bit.ly/1JaiMMJ

rosmarinus officialis (rosemary leaf) extract-0
http://bit.ly/1MVtNEc

essential oils of: syzygium aromaticum (clove) bud-1
http://bit.ly/2kCjzg7

zingiber officinale (ginger)-0
http://bit.ly/1KlhaR4

helichrysum italicum (immortelle)-1
http://bit.ly/2kCkrRT

origanum marjorana (sweet marjoram)-1
http://bit.ly/2kNTGL6