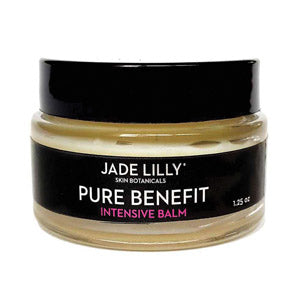 Jade Lilly Skin Botanicals
Pure Benefit Intensive Balm
Foot Balm is a decadent, concentrated, treat for dry and/or cracked feet. All the ingredients used have been chosen for their repairing, skin softening, calming/soothing and moisturizing benefits. Love your feet with Foot Balm.
100% Natural
Made with Organic Ingredients (92%)
100% Vegan & Cruelty Free
INSTRUCTIONS:
Scoop out a small amount, apply to dry or damp feet/heels and gently massage into skin. For an extra healing, wear socks immediately after. 
EWG INGREDIENT LINKS:
ORGANIC COCONUT OIL (Cocos Nucifera Oil)-0
http://bit.ly/1GLHD3p

 ORGANIC SHEA BUTTER (Butyrospermum Parkii Fruit Butter)-0
http://bit.ly/1OD7hOr

ORGANIC MANGO BUTTER (Mangifera Indica Seed Butter)-0
http://bit.ly/1TL9iy8
 
ORGANIC COCOA BUTTER (Theobroma Cacao Seed Butter)-0
http://bit.ly/1Lljrgp

ORGANIC OLIVE OIL (Olea Europaea Fruit Oil)-1
http://bit.ly/1JDXKSG
 
CANDELILLA WAX (Euphorbia Cerifera Wax)-1
http://bit.ly/2ngRJee

CALENDULA EXTRACT (Calendula Officinalis Flower Extract)-1
http://bit.ly/1ICBfh8

CHAMOMILE EXTRACT (Chamomilla Recutita Flower Extract)-1
http://bit.ly/1VbsvXa  

LAVENDER OIL (Lavandula Angustifolia  Essential Oil)-0
http://bit.ly/1EuHKRq

TEA TREE OIL (Melaleuca Alterniflora Oil)-1
http://bit.ly/1Ul3xXx

PEPPERMINT OIL (Mentha Piperita Oil)-0
http://bit.ly/1hpVf09

VITAMIN E (Tocopherol)-0
http://bit.ly/1JaiMMJ