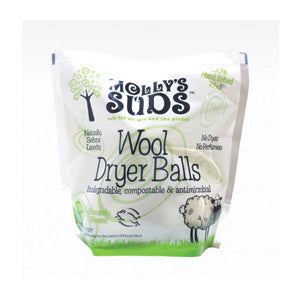 Molly's Suds
100% Wool Dryer Balls (set of 3)
Replace the need for toxic fabric softeners with Molly's Suds 100% hand felted Wool Dryer Balls, which last up to 1,000 loads, or three years, in the dryer, and reduce drying time by 15-30%.
Sourced from humanely sheared sheep, our Wool Dryer Balls are compostable and antimicrobial, naturally soften fabrics, and are great for all laundry, including towels, comforters, clothing, baby laundry, delicates and cloth diapers. Because the wool does not coat the fibers of fabrics with toxins like conventional fabric softeners do, it does not help to prevent static cling; however, try one of our handy tips below to combat the static. Safe for all dryers.
Tips:
Add 1/2 cup of distilled white vinegar to your rinse cycle, in place of fabric softener in the cup
Add 2-3 extra large safety pins to old socks and keep them in the dryer – the metal helps break static bonds
After about 3-5 minutes of dryer time, pull out fleece, sweat pants, and workout apparel to air dry, while continuing to dry the fabrics that do not create static. Almost 90% of the time, static is caused by fleece and other synthetic fibers, like rayon, microfiber, fleece, polyester and "blends".
Comprised of 100% hand felted wool, certified cruelty free.