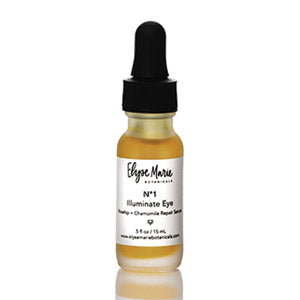 Elyse Marie Botanicals
No1 Illuminate Eye
Experience the healing and soothing powers of Roman chamomile and detoxifying amino fatty acids working to heal and rebalance discoloration with brightness and youth. The skin around the eyes is delicate and tends to show signs of age and stress much sooner than the rest of the face, which is why we felt it a necessity to create a healing agent specifically designed to soften fine lines, reduce inflamation, and diminish dark circles for a more radiant glow.
Cruelty Free - Chemical Free - Plant Based
DIRECTIONS: Apply a drop for under and around both eyes and massage into skin in a circular motion until the product is completely dissolved.  
.5 fl oz - 15 mL
EWG Ingredient Links:
INGREDIENTS: rosa canina (rosehip) seed oil-0
http://bit.ly/1KpNDGX

lavandula angustifolia (lavender) oil-0
http://bit.ly/1EuHKRq

anthemis nobilis (chamomile) flower oil-1
http://bit.ly/1VbsvXa  

bostwellia carterii (frankincense) oil-1
http://bit.ly/1fGSwgO  
*organic