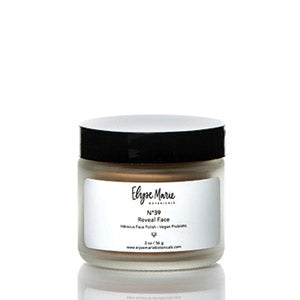 Elyse Marie Botanicals
No39 Reveal Face
The extraction properties of this exfoliant is designed to gently remove excess toxins and skin cells with mineral based ingredients. While promoting cell rejuvination, it increases skin hydration, elasticity, and overall tone. Completely fragrance free and beneficial even for sensitive skin types, this versatile masque or cleanser reduces the appearance of fine lines, wrinkles, roughness, pore size, acne, and redness. 
Cruelty Free - Chemical Free - Plant & Mineral Based
Directions: For cleansing, wet face with warm water and apply about a dime size to skin in a circular motion. When using as a masque add water, hydrosol,  essential oils, or carrier oils for desired consistency and allow masque to dry before removing. Follow with facial mist and moisturizer. 
2 oz - 56 g
EWG Ingredient Links:
moroccan lava (rhassoul) clay-1
http://bit.ly/2mebCyG

oryza sativa (rice) flour*-1
http://bit.ly/2nbSciM

sabdariffa (hibiscus) powder*-1
http://bit.ly/2kWHkDe
 
bacillus ferment (probiotic)**-0
http://bit.ly/1NIr6VN


*organic
** vegan