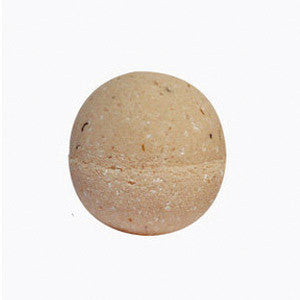 Zabana Essentials
Bath Bomb - 2 Scents Available

All Natural - Vegan Artisan Hand Crafted Fizzy Bath Bomb infused with Pure Plant Extracts, Aroma Aroma Therapeutic Essentials Oils & Minerals To Nourish, Soothe The Skin & Calm The Senses.

TO USE:
Fill tub with water, step into tub and drop the Fizzy Bath Bomb into water, then sit back - relax & enjoy!

INGREDIENTS:
Sodium Bicarbonate, Citric Acid, Magnesium Sulfate (Epsom Salt), Sodium Chloride (Dead Sea Salt), *Vitis Vinifera (Grapeseed Oil), Essential Oils, Mentha (Spearmint) Spicata Leaf, Natural Pigment

*Organic, 100% NATURAL & VEGAN, Net wt. 4 fl. oz. (113 g), Each Fizzy Bath Bomb is handcrafted, appearance may vary.
EWG ingredients links:
http://bit.ly/1emPCx9: 0
http://bit.ly/1Mu3xAH: 2
http://bit.ly/1EuKK02: 0
http://bit.ly/1EuL4vY: 0
http://bit.ly/1TGKj9T: 0
http://bit.ly/1Ps921k: 0