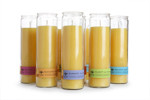 Big Dipper Wax Works
Beeswax Sanctuary Glass - 7 Scents Available
The 13 ounce Sanctuary glass makes quite a statement. This towering glass burns for well over 120 hours. The longest burn for your buck!
These 100% beeswax candles are simply adorned with a removeable label. Glass dimensions are 2.5" diameter, 8" high. 7 aromatherapy scents to choose from!
Ingredients/EWG score:
beeswax: http://bit.ly/1TXAXJ5: 0
essential oils: listed in product description for each scent
Beeswax and essential oils-that's it!!