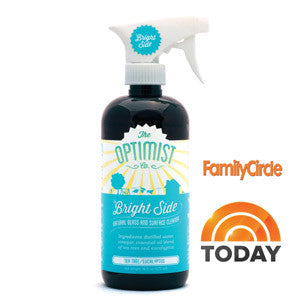 The Optimist Co
Bright Side Natural Window and Glass Cleaner
If you are looking for a streak-free shine, we have you covered with this natural window, glass and surface spray. But don't stop there! This spray is great at solving problems like mold, mildew and odors.
Scents: Tea tree & Eucalyptus
Ingredients: distilled water, white vinegar, essential oil blend of tea tree and eucalyptus 

Why the amber bottle? It's not just pretty to look at. Our amber bottles protect the power of the essential oils we use and are recyclable. We pride ourselves on our green packaging options.
EWG Ingredient Scores:
distilled water-1
white vinegar-1
essential oil blend of tea tree-1
eucalyptus-2