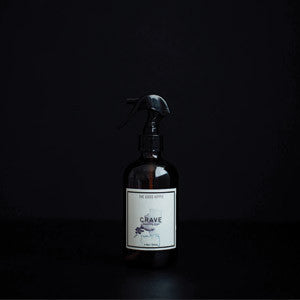 The Good Hippie
Crave Dwelling Mist
O V E R V I E W : 
Transform your surroundings into a fresh, dreamy meadow. Breathe deeply as you experience this intoxicating medley of florals.
Use on everything from your bed linens, throw pillows, to rugs, curtains, and towels.  Mist throughout the air too!
K E Y   I N G R E D I E N T S :
GERANIUM + YLANG YLANG + LAVENDER: a beautiful blend of essential oils create a fresh, feminine, sensual aroma.
O U R   P R O M I S E :
PURE + NATURAL. Absolutely no useless fillers, artificial ingredients, animal products, parabens, sulfates, artificial fragrances, coloring, dyes, or harmful preservatives.
KIND + PEACEFUL. Our products are vegan and no animal testing is conducted on our products or ingredients.
SUSTAINABLE + ETHICAL. We carefully source our raw materials and packaging with a sense of responsibly to and utmost respect of Mother Earth.
D E T A I L S:
Packaged in an 8 oz reusable glass bottle. 
TO USE:  Shake bottle, then generously mist throughout the air, on rugs, linens, curtains, clothing, etc. Breathe deeply. Feel beautiful and sensual. Not intended for use on your skin. Before using on linens, test a small patch for compatibility.
C O M P L E T E   I N G R E D I E N T   L I S T:  aqua (distilled water),  essential oils of pelargonium graveolens (geranium)*, lavandula angustifolia (lavender)*, cananga odorata (ylang ylang)*
* certified organic 
EWG Ingredient Links
aqua (distilled water)-0
http://bit.ly/1LxgZRj

essential oils of pelargonium graveolens (geranium)-1
http://bit.ly/1Md4dLQ

lavandula angustifolia (lavender)-1
http://bit.ly/1EuHKRq

cananga odorata (ylang ylang)-3
http://bit.ly/1emPP3x