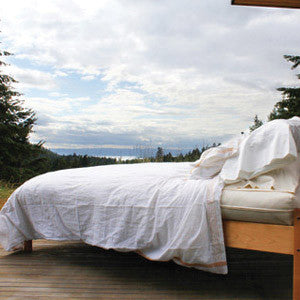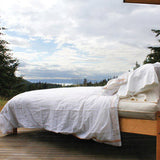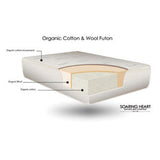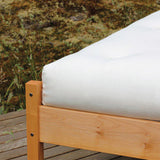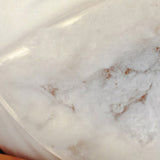 Soaring Heart
Organic Cotton & Wool Futon
Organic Futon
Moisture, mildew, and dust mite resistant – as well as thermal regulating – Premium Organic Wool, a blend of wool gathered from eight different sheep breeds, creates a protective barrier around the organic cotton core of the Organic Cotton & Wool Futon, giving you a longer lasting mattress that is supremely comfortable.
Our futons are encased in 100% organic cotton twill.
Soaring Heart's Organic Cotton & Wool Futons make great organic mattresses for anyone who enjoys the classic firm feel of a futon or is trying to better utilize their space. An organic futon can, which make them perfect for studios, small apartments, multipurpose rooms, or a comfy, healthy guest bed (for use in a sofa set-up we recommend the Organic Cotton, Latex & Wool Futon, because the organic latex core reduces creasing where the futon folds – that "fold crease" can make other futons less comfortable when slept on).
Futons are 7" - 8" thick when new and compress to 6" - 7" with use.
Chemical Free
All of our organic mattresses, futons, and shikibutons fully meet federal flame retardant guidelines (1632 and 1633) and pass all tests without the use of any synthetic or chemical fire retardants whatsoever; no PBDE's, no boric acid powder, no nothin' - just organic cotton and wool. There are no prescriptions needed or hoops to jump through, just peace of mind that you are on the safest, healthiest, and most comfortable mattress available.
At full, original loft, the layers of organic wool that make up each Soaring Heart futon measure 24" tall, give or take, only compressing down to the more familiar seven inches after passing through the skilled hands of our craftspeople. Once slept on for a while, your new organic futon will settle down to six or seven inches.
Pure Comfort
All Soaring Heart organic futons are handmade from only the highest quality, locally sourced, organic materials using time honored techniques practiced, honed and perfected over the past 30 years. You can expect your new organic futon to last you anywhere from eight to fifteen years, depending upon how well you maintain it. Futons require occasional flipping so that they wear evenly. This reduces body impressions, which, unfortunately, can make a futon less comfortable over time - regardless of the beauty of the impressioning body.
Certifications 
At Soaring Heart Natural Beds we are proud to have one of only two Global Organic Textile Standard certified organic workshops, where we make mattresses and bedding from the best materials on earth. For over thirty years we have been an authority in the mattress and organic industry, setting the bar higher and higher for both ourselves and our partners.
You spend eight hours a day on your mattress and we want those to be the best eight hours of your day. That is only possible when you use the best, time honored, mattress crafting techniques and the highest quality materials. 
USDA Certified Organic Cotton, Wool, & Latex
All of our American grown long-fiber cotton, wool, and synthetic free latex is certified organic by the United States Department of Agriculture. 
Global Organic Latex Standard (GOLS) Certified Organic Latex
All of our latex is certified organic and chemical free by the Global Organic Latex Standard, an organization that ensures all the latex, farming, and manufacturing processes meet strict global organic standards. GOLS is a globally recognized and respected certifier.

Global Organic Textile Standard (GOTS) Certified Workshop
The Global Organic Textile Standard is Oregon Tilth's organic certification and is the most widely respected and most stringent organic certifications in the industry. We work out of one of only two GOTS certified workshops using 100% GOTS certified organic wool. 

Oregon Tilth Organic Certified Wool
All of our organic wool is certified organic by Oregon Tilth, one of the most--if not the most--respected organic certification agencies in the world. 
 

Consumer Product Safety Commission 
Every Soaring Heart Natural Bed Company organic mattress, futon, and shikibuton has been tested by the CPSC and meet all federal, state, and Canadian flammability requirements without the use of any chemical or synthetic fire retardants. Our mattresses, futons, and shikibutons meet all flammability performance criteria under CPSC Statutes 1632 and 1633.
Texas Department of Agriculture Certified Organic Cotton
All of our long-fiber organic cotton is grown in Texas by the Texas Organic Cotton Marketing Cooperative, which produces the majority of organic cotton in the United States. The cotton is certified organic by the Texas Department of Agriculture, who has been a leader in the development of organic standards and certifications in the USA.
Certified Non-GMO Cotton, Wool & Latex
All of our organic cotton batting, organic wool, and organic latex is certified non-GMO (Genetically Modified Organism) by the Global Organic Textile Standard and Global Organic Latex Standard, respectively. 
Made in Seattle, USA
Soaring Heart Natural Beds is a founding member of Seattle Made, a collaborative initiative to support and grow Seattle's urban manufacturers and producers. All Soaring Heart Natural Beds products are handcrafted in our Seattle workshop.