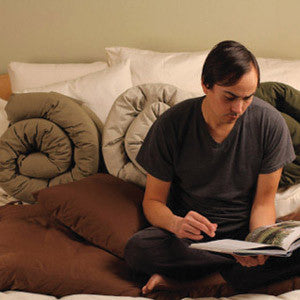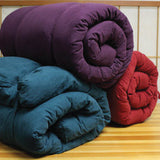 Soaring Heart
Organic Bedroll (insert)
Organic Bedrolls are a timeless classic updated to meet Soaring Heart's standards of quality and craftsmanship. Our supportive bedrolls are made with only the highest-quality locally sourced materials available, and constructed using the same techniques our talented craftsmen have acquired over thirty years of making our organic mattresses, futons, and shikibutons. Whether you choose the original organic cotton bedroll, the moisture-resistant organic cotton & wool bedroll, or the resilient organic cotton, latex & wool bedroll, you can sleep easy knowing that you have purchased a handmade product that is built for comfort and longevity.

Versatility is the hallmark of our Organic Bedroll, providing a quick and easy sleeping surface for guests or children; for travel, or camping; as a cushion for window seats, and more. Buy the washable, decorative cotton cover to protect your investment, and use the attached ties to easily roll up your bedroll when finished and store it until it's needed again.

Organic Bedrolls are made exclusively using 100% USDA certified organic American-grown long-fiber cotton, organic Dunlop latex, and Premium Organic Wool, a blend of eight breeds of sheep wool gathered from small family farms along the California and Oregon coasts.

Our Organic Bedrolls are 24 inches wide by 72 inches long with a 3-4 inch loft. For prolonged sleeping, we recommend using a mattress pad.