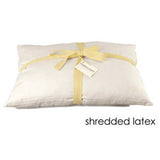 Soaring Heart
Organic Shredded Latex and Wool Pillow
The Organic Shredded Latex & Wool Pillow is wonderful for side sleepers or anyone who likes a lofty pillow. Our all organic wool and latex are expertly blended together in the perfect ratio to enhance the unique characteristics of each material and achieve a pillow that is both soft and resilient. The shredded latex adds bounce and structure to our fluffy wool, providing you with a pillow light, springy, and long-lasting. 

Combine the pillow's feel with wool's natural thermal regulating properties (keeps you cool in summer and cozy in winter) and both wool's and latex's mold, mildew, and dust mite resistance and you might have the perfect pillow.

Care

Organic Shredded Latex & Wool Pillows cannot be washed. Please use a pillowcase to keep your pillow clean. In case of an accident, use a spray bottle of rubbing alcohol to spot clean the pillow. Air dry outside, preferably on a sunny day (sunlight acts as a natural dry clean for wool).

Size

Standard/Queen: 20" x 26"

King: 20" x 36"

Travel/Kids: 14" x 20"