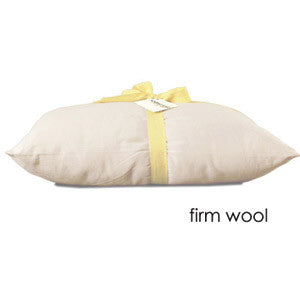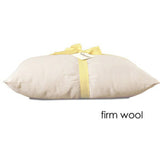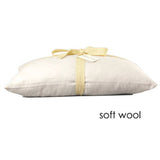 Soaring Heart
Organic Wool Pillows
Our springy-soft organic wool pillows are made by combining over 30 years experience at the forefront of our industry with time-tested materials. Our organic wool is resilient yet yielding, which makes for a wonderful pillow. When you include the additional benefits of wool, such as moisture, mold, and dust mite resistance, thermal regulation--keeping you cool in the summer and warm in the winter--and antimicrobial properties, you just may have the perfect pillow.

Firm Organic Wool

 

Pillow

Ideal for side sleepers, this thick and lofty wool pillows will fill the space between your shoulders and head, helping to keep your neck and spine in proper alignment. Handcrafted from many layers of organic wool batting and encased in 100% organic, American grown cotton, these fluffy pillows are as pure and comfortable as a cloud.

Soft Organic Wool

 

Pillow

Perfect for people who prefer to sleep on their back or stomach these wool pillows will fill the contours of your neck, keeping your head properly elevated and in good alignment with the spine. Each pillow is made by hand here in our Seattle shop from layers of 100% organic wool and American grown organic cotton.

Organic Wool Pillows, both soft and firm, cannot be washed. Please use a pillowcase to keep your pillow clean. In case of an accident, use a spray bottle of rubbing alcohol to spot clean the pillow. Air dry outside, preferably on a sunny day (sunlight acts as a natural dry clean for wool).