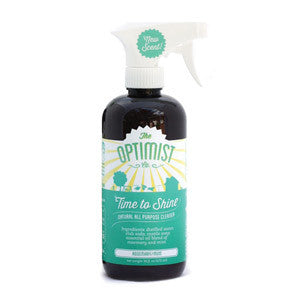 The Optimist Co
Time to Shine All Purpose Cleaner
We combined the effective powers of Rosemary and Mint essentials oils for a refreshing new natural all purpose cleaning scent. Pre-orders are open so be the first to give your home its Time To Shine! 
Bring the sparkle back to your countertops, granite, tile, appliances and stainless steel. Clean as much as you need with this all-purpose cleaner that is non-toxic and lightly scented. 

Scent: Rosemary & Mint from pure food grade essential oils 

To use: Spray, wipe and enjoy the shine! 
Why the amber bottle? It's not just pretty to look at. Our amber bottles protect the power of the essential oils we use and are recyclable. We pride ourselves on our green packaging options.
EWG Ingredient Scores:
distilled water-1
natural castile soap-1
essential oil blend of tea tree-1
lemon-0